Unhealthy Personalities

Don't let these toxic types bring you down.

1. Bullies. It's not just kids who get bullied on the playground, although that's often where it starts. A Canadian study found that, in the workplace, bullying is more harmful than sexual harassment. The study, which was presented at the International Conference on Work, Stress and Health, revealed that compared with employees who reported sexual harassment, bullied employees were more likely to quit their jobs, were more stressed, and had more anger and anxiety. The researchers speculated that the discrepancy may be due in part to there being more resources available to victims of sexual harassment.
2. Abusers. Everyone deserves to live in a safe and respected environment, but abuse is more common than you might expect. According to a domestic violence symposium at Harvard University, half of all women will be in an abusive relationship at some point in their lives. If you or someone you know is in an abusive relationship, help is available. Often local resources can provide assistance; check with your local police station, YMCA, church, synagogue, or other place of worship. Or you can call the National Domestic Violence Hotline at 1-800-799-SAFE (1-800-799-7233).
3. Jealous people. Often, people who display signs of jealousy do so because they're not confident in themselves. For example, a study published in the journal Evolution and Human Behavior discovered that short men were the most jealous, while very short or very tall women were more jealous than women of average height. The researches speculate that taller men and women of average height were least jealous because they are commonly considered the most attractive to the opposite sex and were most confident in their abilities to attract a mate.

Liar, Liar…

"I am not a crook." "That dress looks great on you." Some lies have bigger consequences than others, but at some point, we've probably all told one. In fact, according to a Cornell University study, people lie in roughly 25 percent of their daily interactions. How can you tell if someone's trying to deceive you or if they're telling the truth? Here, we pinpoint a few common signs.

• Inconsistencies. One of the easiest, and most reliable, ways to catch a liar is to identify inconsistencies in their story—details that just don't jive with common sense, prevailing logic, or societal norms. For example, if your date claims he's as rich as Bill Gates but drives a Hyundai, you can bet he's telling a tall tale.
• Eye contact. When it comes to lying, the eyes can be a dead giveaway. Generally, liars avoid eye contact, but if you're dealing with a seasoned fabricator, he or she might stare excessively. In addition, most people's pupils dilate when they're lying because their adrenaline rises. According to an FBI Law Enforcement Bulletin, liars may also blink rapidly or close their eyes for slightly prolonged periods in an attempt to block out auditory or visual stimuli.
• Contradictions. As they weave their tales of deceit, liars typically forget a few details along the way and reveal some telling contradictions. For example, if a friend backed out of your weekend plans because she supposedly had a life-threatening illness and later described the weekend as "wonderful," consider it a red flag.
• Stammering or scrambling. The majority of liars, especially under questioning, will utter a lot of nervous ahhs, umms, and wells in an effort to buy time and save face. When confronted with particularly tough questions, they may also scramble for flimsy rationales and far-fetched excuses to reinforce the lie.
The 10 Most Expensive Foods in the World
Not all mushrooms and martinis are created equal. Discover the secrets behind these ultra-pricey indulgences.
One thousand dollars for an ice-cream sundae? Sixteen grand for a cocktail? Believe it or not, there really are foods and drinks that sell for this much--and there really are people who are willing to pay for them. Here, 10 of the world's most expensive indulgences. Are they are worth the hefty price tag? You be the judge.
1. Saffron. Grown worldwide, this spice is derived from the saffron crocus flower. A pound of dry saffron requires 50,000 to 75,000 flowers (enough flowers to fill an entire football field), and because of the massive amount of resources and labor needed, saffron prices range from $500 to $5,000 a pound.
2. Almas caviar. The word "almas" is Russian for diamond, which is a fitting name for the world's most expensive caviar. This beluga variety hails from a fish (not the beluga whale), which is believed to have once lived at the same time as the dinosaurs. Packed in none other than a 24K gold tin, Almas caviar is white in appearance and sells for an unbelievable price of $23,308 per 32 ounces.
3. White truffle mushroom. These fancy fungi have their origins in the Piedmont region of northern Italy. Typically sold for $1,350 to $2,700 per pound, the record price paid for a single white truffle was set in December 2007, when casino owner Stanley Ho shelled out $330,000 for a truffle weighing just over three pounds.
4. Kobe-style beef. This meat from Wagyu cattle is known worldwide for its incredible taste, texture, and marbled appearance. Because of the animal's genetic predisposition and special diet, including beer and sake, wagyu yields a beef that contains a higher percentage of omega-3 and omega-6 fatty acids than typical beef. Grocery stores in the United States generally sell this sought-after meat for $40 to $150 a pound.
5. Kopi Luwak coffee. The world's most expensive coffee, Kopi Luwak is made from coffee berries that have been eaten by and passed through the digestive tract of the Asian Palm Civet, a catlike animal. The animal eats the berries, but the beans inside pass through its system undigested. This process takes place on the islands of Sumatra, Java, and Sulawesi in the Indonesian Archipelago, and in the Philippines. The total annual production is only around 500 pounds of beans, which may explain the outrageous price of a pound--$300 or more.
6. "Diamonds-Are-Forever" martini. This ain't your everyday cocktail. The olive has been replaced by a 1.6 carat diamond, partially accounting for the martini's $16,000 price tag. If you're looking for a taste of this divine drink, though, you'll have to travel to the only place it's served: the Ritz-Carlton in Tokyo, Japan.
7. Kona Nigari water. This seaweed mineral concentrate, which sells for $16.75 per ounce, must first be mixed with regular drinking water before consuming. The concentrated water is said to be high in minerals and free of contaminates. If you're thinking about purchasing one gallon, though, you'd better have more than $2,000 set aside.
8. Chocopologie truffle. At $2,600 per pound, these handmade dark-chocolate treasures are available by pre-order only from Knipschildt Chocolatier in Norwalk, Connecticut. Each truffle, made from Valrhona cacao, is blended into a creamy ganache, hand-rolled, and dusted with cocoa powder. How's that for your next Valentine's Day gift?
9. Nino's Bellisima pizza. They say there's nothing like New York City pizza, and Upper East Side restaurateur Nino Selimaj proves it. This specialty 12-inch pie features lobster tail, crème fraiche, and six types of caviar. If you've got $1,000 to spare, the pie is yours. Just make sure you call 24 hours ahead because the ingredients must be specially ordered.
10. Serendipity sundae. Prepared with five scoops of the richest Tahitian vanilla bean ice cream and drizzled with some of the world's most expensive chocolates, this $1,000 dessert created by Serendipity in New York City certainly lives up to its name: Grand Opulence sundae. What's more, the treat is topped with special dessert caviar, adorned with a 23-karat edible gold leaf, and served in a crystal goblet complete with an 18-karat-gold spoon.
10 Weirdest Facts About the Human Body
From WiFi and plasma screens to picture phones, modern technology might seem pretty complex. But according to biologists, the human body is still the most sophisticated--and mysterious--machine on Earth. A single brain cell, for example, can hold as much information as the Encyclopedia Britannica, while human stomach acid is strong enough to dissolve razorblades. Read on as we reveal the 10 strangest-but-true facts about the human body.
1. The human brain is the world's most powerful computer. When it comes to sheer computational strength, today's state-of-the-art processors are still no match for the human mind. According to experts, the average brain has a storage capacity of about 100 terabytes, while the typical PC offers only a fraction of that, about 100 gigabytes.
2. The human body has roughly 60,000 miles of blood vessels. According to the Cleveland Clinic, the body's blood vessels, which include the arteries, veins, and capillaries, would be 60,000 miles long if they were laid out end to end. That's approximately the distance you'd need to travel if you wanted to circle the globe two and a half times.
3. The human nose can remember 50,000 different scents. Although you'd probably never want to recall that many aromas, it's nice to know that your nose is doing its job. That said, you shouldn't be too impressed--humans have about 5 million odor receptors, while dogs, depending on the breed, may have more than 220 million.
4. A human sneeze can exceed 100 miles per hour. People generally inhale air slowly, but when they sneeze, air rushes out of their nostrils at 100 miles per hour or more. It should come as no surprise that it's so easy to catch colds and flu; a sneeze's velocity enables it to propel germs up to 12 feet.
5. The human body contains about 32 million bacteria per square inch. There's no denying it: Every one of us is basically a petri dish for armies of microscopic critters. In fact, the human body contains 10 times more bacteria per square inch than the average toilet bowl does.
6. The largest internal organ in the human body is the small intestine. Contrary to what its name might suggest, the small intestine--the portion of the gastrointestinal tract between the stomach and the large intestine--is anything but petite. In fact, if you unfolded it, you'd find it was roughly 23 feet long.
7. Three hundred million cells die every minute in the human body. It might sound like an awful lot, but it's insignificant compared with the overall number of cells in your body. Scientists estimate that the average human body contains between 10 and 50 trillion cells, so it can afford to lose a few here and there.
8. Human stomach acid is strong enough to dissolve razorblades. According to scientists, human stomach acid is seriously powerful stuff--so strong, in fact, that it's capable of dissolving razorblades. But whatever you do, don't attempt to swallow one.
9. Humans produce enough saliva to fill one or two swimming pools. Saliva helps to keep the mouth lubricated and plays a key role in the digestive process. Most experts believe that humans produce between 0.75 and l.5 liters of the fluid a day, which means that during your lifetime, you'll produce enough to fill one or two swimming pools.
10. Humans have as many hairs per square inch as chimpanzees.
They might look a lot furrier than we do, but according to biologists, we have the same amount of hairs per square inch as our primate friends. In fact, when scientists at the University of Washington, Seattle, sequenced the genome of the chimpanzee, they found that humans were 96 percent similar to the great ape species.
How to Avoid the Foreclosure "Spin" and Make a Bundle in This Crazy Market
By Marc Charles
The news media is all doom and gloom about the current real estate market, and the economy in general. But let me tell you. You can still make money with foreclosed property, especially in today's economic climate. I've had great success with this, and it can work for you too.
But it's crucial to separate the facts from fiction and ignore the hype.
Almost everyone approaches real estate investing with the same point of view. They try to convince themselves that they'll make a ton of money quickly, without any risk whatsoever. You've seen many of those people profiled on evening news shows or in newspaper articles. They're the ones who were caught short when the real estate bubble burst.
The get-rich-quick impresarios almost never reveal the full extent of the downside risk of the strategies they're promoting. And the downside risk is a big deal for me.
Take, for instance, the "buy, fix, and flip" strategy. The days when you could make money doing this are over for the short term (the next three to five years). Why? Because buyers are scarce.
Despite all this, opportunities for making huge profits with foreclosed and bank-owned properties can't be ignored... even by entrepreneurs who are coming into the market for the first time. This is especially true if you are able to acquire foreclosed or bank-owned properties at deep discounts.
But before you jump on the "foreclosed train," here's something to keep in mind...
Just because a property is foreclosed or a bank owns it, does NOT make it a good deal. As with any business or investment opportunity, due diligence is necessary. Whatever your experience level, the best foreclosure deals can be identified through patient research.
The Perfect Insider Strategy
The current trend in real estate emphasizes rental revenue (versus appreciation). That's why foreclosed and bank-owned property is worth a look.
If people can't afford their homes or condos, where will they live? Smaller, more modest homes and/or rentals. So there are still buyers and renters out there, but they are looking at smaller, cheaper properties. That's where the opportunity lies for you.
One way to capitalize on this current market demand is to acquire foreclosed homes or bank-owned properties - at deep discounts − and rent them out. When I tell you to purchase at deep discounts, I'm talking about buying from desperate sellers - sellers who must sell, no matter what.
Billionaire real estate developer Sam Zell is known as the "Grave Dancer" because he gets interested in a property when it's almost dead and gone... and no one wants it. You should take a similar approach if you want to make money with foreclosed and bank-owned property.
One of the largest banks in the world is Bank of America. They have a new website featuring hundreds of bank-owned properties for sale. You'll be amazed at some of the deals. But don't go hog wild. Be patient and develop a clear strategy for your business.
Before You Get in, Know the Downside
Buying foreclosed property can be a lot of fun and it can be very profitable. But it's important to avoid the typical foreclosed property "spin."
If a renter's bull market develops, you'll want to be sure you're not left holding the bag. So always consider the worst-case scenario. There's always a possibility that something will go wrong - especially when it comes to real estate.
Consider the fact that millions of so-called investors who were planning on making big bucks with their "buy, fix, and flip" strategy are now holding properties that are worth less than what is owed. Most of the homes the flippers are trying to unload are too nice (or pricey) to offer as rentals. But what if hundreds of those fixer-uppers hit your market at the same time?
In larger cities, renters have been easy to come by. But what happens if the rental market softens or collapses? Can you afford that foreclosed or bank-owned property you have your eye on if the rental income goes down? This is a calculation you must make before buying.
Let's say you're looking at a foreclosed property within two miles of a Super Wal-Mart for $50,000. (A potentially excellent investment.) Let's say the mortgage payment is $415 a month ($50,000 at 5.75 percent for 15 years).
Your objective would be to recoup the cost of your mortgage payment, simple maintenance, insurance, property management, taxes, and background checks on prospective tenants. And let's say those expenditures add up to $650 month. So, in this case, you'd need to rent the house for $650 to cover expenses.
In most areas of the United States and Canada, this property would be fairly easy to rent. Of course, if hundreds of inexpensive rental properties suddenly hit your market, renters would have a smorgasbord of options. Bad for you. However, few of the "buy, fix, and flip" real estate investors and developers are likely to be in this particular market. The kind of properties they're sitting on would have to rent for far more than $650 a month.
Sam Zell is confident the trend toward rental revenue (versus appreciation) has already begun. This doesn't mean a foreclosed or bank-owned property will not appreciate. But don't count on it. Instead, focus on patiently acquiring deep-discounted properties that will provide you with rental revenue. In 10 years, when it's time to get back into "buy, fix and flip" real estate, you can sell all your rental properties for cash, or just sit on them with mortgages paid in full.
What happens if other landlords sweeten their deals to renters by including heat, electric, and water? This may happen in apartment buildings, but I don't see it happening in single-family home rentals. You'll have to adjust your strategy accordingly if this occurs. But I think you're safe.
As with any business, you should expect the best but prepare for the worst.
The Big Upside
Despite the risks, there's a big upside to buying foreclosures. Because foreclosed property can often be purchased for less than market value.
Contact the top 20 mortgage lenders in your state. Ask for the Real Estate Owned (REO) department. They'll send you a list of REO properties that are currently available. Banks typically sell foreclosed properties "as is," and buying them is like buying anything else "as is": There are no warranties or guarantees. However, you can review the property (and its assessed value).
The next step is to submit an offer to the bank (with proper due diligence, of course). The bank will often return with a counter offer that is higher than you expected. If you feel the property still has tremendous potential, you should counter their offer with a new offer.
Granted, locating and purchasing a property before it reverts to the mortgage company is always the best way to go. But REO properties give you a way to get started quickly. The main objective is to find smaller homes at deep discounts and rent them out to qualified tenants.
If you purchase two deep-discounted properties this year and two each year thereafter for the next 10 years, you'll have 20 rental properties. The debt service on those properties should be very manageable.
Let's say you rent each of your 20 homes for $1,250 per month. If the debt service, taxes, insurance, and maintenance on these homes is $12,000 (about $600 per property), you could conceivably net $13,000 per month.
I hate generic illustrations. But if you work the numbers, you'll find that acquiring deep-discounted bank-owned properties with a view toward renting them makes sense.
Hundreds of bank-owned property websites are popping up every month. Why? Because banks are not in the real estate business; they are in the money business. And so they are eager to get these properties off their books.
Getting Started
Okay. So how do you get your hands on deep-discounted foreclosed and bank-owned properties?
There are many sites on the Internet that list foreclosed homes for sale. And, of course, real estate agents always try to get in on the action. Though they seldom tell you about properties that are not listed by their agencies, it is possible to find agents who are unbiased and knowledgeable.
Here are some sites to help you locate deep-discounted foreclosed and bank-owned properties:
HUDWorks.com
RealtyTRAC.com
iForeclosures.com
Foreclosure.com
FannieMae.com
BidSelect.com
ForeclosureNet.net
Countrywide.com
BealBank.com
DowneySavings.com
Don't be scared away by all the negative press the housing market is getting. It IS possible to make a great living and build substantial wealth by purchasing foreclosed and bank-owned properties.
Advertising on the WEB- VIDEO

Here's a list of the top video-sharing sites...

YouTube.com

Video.Google.com

Blip.tv

Revver.com

Jumpcut.com
After posting a video at one of these sites, don't stop there. Continue sharing it at several social-networking (Web 2.0) sites. When done tactfully, this can create a nice flow of viral traffic that can actually be hard to slow down... even if you wanted to!
Top social-networking sites include...

Digg.com

Del.icio.us

Furl.com

Twango.com

Vsocial.com
The goal is to have your video create a buzz and be spread virally via these networks. Only the most entertaining (and even quirky) videos go viral, so try to think outside the box when creating yours for these sites.
No Nursing Home for Me

About 2 years ago my wife and I were on a cruise through the western Mediterranean aboard a Princess liner. At dinner we noticed an elderly lady sitting alone along the rail of the grand stairway in the main dining room. I also noticed that all the staff, ships officers, waiters, busboys, etc., all seemed very familiar with this lady.

I asked our waiter who the lady was, expecting to be told that she owned the line, but he said he only knew that she had been on board for the last four cruises, back to back.

As we left the dining room one evening I caught her eye and stopped to say hello. We chatted and I said, "I understand you've been on this ship for the last four cruises" She replied, "Yes, that's true." I stated, "I don't understand" and she replied, without a pause, "It's cheaper than a nursing home."

So, there will be no nursing home in my future. When I get old and feeble, I am going to get on a Princess Cruise Ship. The average cost for a nursing home is $200 per day. I have checked on reservations at Princess and I can get a long-term discount and senior discount price of $135 per day. That leaves $65 a day for:
Gratuities, which will only be $10 per day.
I will have as many as 10 meals a day if I can waddle to the restaurant, or I can have room service (which means I can have breakfast in bed every day of the week).
Princess has as many as three swimming pools, a workout room, free washers and dryers, and shows every night.
They have free toothpaste and razors, and free soap and shampoo.
They will even treat you like a customer, not a patient. An extra $5 worth of tips will have the entire staff scrambling to help you.
I will get to meet new people every 7 or 14 days.
T.V. broken? Light bulb need changing? Need to have the mattress replaced? No Problem! They will fix everything and apologize for your inconvenience.
Clean sheets and towels every day, and you don't even have to ask for them.
If you fall in the nursing home and break a hip you are on Medicare; if you fall and break a hip on the Princess ship they will upgrade you to a suite for the rest of your life.
Now hold on for the best! Do you want to see South America, the Panama Canal, Tahiti, Australia, New Zealand, Asia, or name where you want to go? Princess will have a ship ready to go.

So don't look for me in a nursing home, just call shore to ship.

To Your Good Health,

Jenny Thompson
Mow, Mow, Mow Your Lawn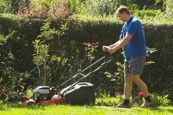 The grass is always greener in everyone else's yard. It could be your angle. Or perhaps the dog, the kids or the grubs. More likely, though, it's because your neighbors spend more time making it look that way.

Not that you're lazy or anything. You just aren't aware of a very important fact, one that makes the often torturous chore of maintaining a lawn worthwhile: Your yard is worth something. If you plan on selling your home at any time in the future, maintaining or improving your yard is actually an investment. According to the Gallup Organization, a well-landscaped yard can add 7% to 15% to your property value. Trees add value, too. The Council of Tree and Landscape Appraisers says mature trees are often appraised at $1,000 to $10,000 each. That's a nice chunk of change!

The same goes for townhomes, brownstones and condos. Even if your green space is a little smaller, you can make it the most beautiful on the block! So what are you waiting for? Mow! Prune! Fertilize! All that hard work will pay off someday. Plus, the neighbors will like it—and you'll love the way a well-kept space makes you feel more at home and at one with nature.
(P.S.—Apartment dwellers, you can "add value" to your rental by bringing some plants into your space to make the air cleaner and your rooms brighter! You obviously won't reap financial rewards, but you'll get the same good feelings and make your house feel a bit more like a home.)
FOR YOUR HEALTH: Five Things to Remember
By Dr. David Eifrig Jr.

Before reading this week's Health Report, spend a few moments imagining what your health will be like during the next 15 years.

If you are envisioning a healthy life, then the next step is to start doing more things to achieve that vision. A life filled with peace and pleasure is close at hand if you remember to pay attention to your self. Be mindful of the risks and benefits of choices.

I have developed a list of five simple steps to a healthy lifestyle.

The delight is that all five of these things are easy to do. I can promise if you begin today, you'll actually feel better tomorrow. And if you do these things again tomorrow, I guarantee you'll feel great by Tuesday.

I'll caution you now. I read a lot of research and try out a lot of different ideas myself. But astonishingly, most of what I'll share with you is based on common sense and quite simple to do. The hard part is starting. But if you start, the results will be fantastic.

These five things have been studied, tested, and proven to provide great benefits. Even if you can't do all of them all of the time, at least try them once a day or week, until they become habit. The quality and length of your life will go up.


Start on the path to improved health with these five practices:
1.
You are what you eat. This is the most important thing to remember: Pay attention to what you eat. Sounds simple enough. If all you eat are donuts and pastries with whole milk, French fries, Cokes, fried chicken, and onion rings, then guess what? You're going to be fat, stink, and ache all over. Why? Because those foods are dense in calories and high in fats that destroy the good fat in your body.

Want to feel good? Eat whole grains, fruit, berries, teas, slowly grilled meats, and vegetables. A diet like that will get you closer to your natural weight because it will reduce your caloric intake. (Who can eat 18 apples in a day?) By the way, the Japanese have a saying "hara hachi bu," which means eat until you are almost full, not stuffed. Humans who practice this live to their 100s and maintain good health. Remember, you are what you eat.
2.
Move your body. It doesn't matter what you do – just get moving. Gardening is as beneficial as aerobics. Walking is as good as tennis. Your body knows it's alive when it's moving. By moving, you allow your body to produce chemicals and molecules that help keep it alive.

Amazingly, research shows movement results in changes at the molecular level. Exercise turns on and off different genes. It actually changes our genetic makeup! Ten years ago, doctors would laugh if you suggested such changes occur. If you are getting started, be careful and go slowly. But do something and let your body do the rest. Start with a simple 15-minute walk tonight.
3.
Get your sleep. The fastest-growing health industry in the U.S. is the sleep business. It turns out poor sleep habits (and hygiene) will kill you faster than anything else. With poor sleep, you gain weight and your brain stops functioning. The actual structures in your brain change with poor sleep. Some changes are permanent. So remember to get at least seven and a half hours a day... although eight hours is ideal.
4.
Get your sunshine. No matter where you live, get sun on your body every day. Sunlight prevents multiple diseases and improves moods. It decreases the odds of getting multiple sclerosis, high blood pressure, cancer, and depression. Sunlight stimulates your body to produce vitamin D, which then combines with other important molecules critical to health.

Are you worried about sunburn? Don't be. It's simple: Don't go out during the midday sun (11 a.m.-3 p.m.). And perhaps most important, avoid those cancer-causing sunscreens. The higher the SPF, the more concentrated the chemicals.
5.
Stop and smell the roses. I've saved the best for last – flowers. Flowers change your mood instantly. Flowers with sweet smells bring back memories. And science shows flowers increase our ability to create new memories. Flowers in the workplace increase productivity and mood.

Plus, it's fun to grow your own. With a few pennies and a little bit of time, a small area in your backyard can be heaven. Watching the plants grow and picking them for a vase on your table is truly one of the joys in life. Be sure and plant varieties that smell good, like sweet peas, oriental lilies, roses, petunias, or even ever-blooming gardenias. But if you're less inclined to test out your green thumb, be sure and buy flowers weekly... it will be the best $10 you have ever spent.
When it comes to these five things... What do I do?
| | |
| --- | --- |
| 1. | I eat berries – such as blueberries, raspberries, and blackberries – that are high in antioxidants, which support healthy metabolism. |
| 2. | I take a multivitamin once a week to supplement my food. |
| 3. | I try to eat a little less than what makes me full. |
| 4. | I exercise in some form almost every day. Often it's as simple as a 30-minute walk after dinner. |
| 5. | I try and get at least eight hours of sleep every night. If I don't get that amount of sleep, my body and even my eyes ache. |
| 6. | I make sure to get some sun on my body every day. |
| 7. | I buy flowers almost weekly. Occasionally, I bring them to the office and surprise people... I don't tell them I brought them. This is great fun. |
Here's to our health,

David Eifrig Jr., M.D., M.B.A.
7 Brainiest Cities in America
These U.S. hot spots house some of the nation's most cultured and educated residents.
Part of what shapes a city is its people. And while these impressive locales can lay claim to scenic beauty and fascinating history, they're also home to some of the smartest people in the country. Here are the top seven brainiest cities in the country, based on the percentage of residents who have college degrees, the number of cultural activities available (such as museums and plays), and literacy levels of its residents.
1. Seattle.
1. Seattle.
Home to 40 educational institutions, 20 libraries, the largest percentage of residents who hold bachelor's degrees (52 percent) and second largest percentage who hold advanced degrees (nearly 21 percent), Seattle tops our list of brainiest city in the country. A number of high-profile companies have helped place Seattle on the map, but few can deny that it's Microsoft and Starbucks that are largely responsible for this city's infamy. Microsoft's creator, Bill Gates (otherwise known as the richest man in the world) has a home that is said to be worth over $110 million. Need we say more?
2. Washington, D.C.
From the White House and the Smithsonian museums to the FBI and prestigious Georgetown University, Washington, D.C. is home to some of the most famous and historical landmarks in the world. It's comforting to know that the residents of our nation's capital and the center for our government are also some of the most educated in the country. Of residents ages 25 and up, 44 percent hold bachelor's degrees, and nearly 24 percent hold advanced degrees. Additionally, Central Connecticut State University's study ranked D.C. as the fifth most literate city in the country.
3. San Francisco.
Nestled into the southern part of this city by the bay is Silicon Valley-the country's leading high-tech hub-and nearly half of San Fran's residents (age 25 and up) carry a bachelor's degree, the second highest in the country, according to the U.S. Census Bureau. Mix in nearly 17 percent of residents with advanced degrees and a population teeming with cultural and ethnic diversity, and it's no surprise that San Francisco has earned one of the top spots on our list.
4. Boston.
The largest city in New England, Boston is also considered to be the cultural and economic center of this entire region. The home for prestigious universities, such as Harvard and Cambridge, attracts superior brain power from all over the globe. In addition, Beantown ranks fifth for most cultured city, tenth for most literate, and twelfth for percentage of residents with bachelor's degrees. Not too shabby.
5. Denver.
A mecca for outdoor sports fanatics, the mile high city also draws distinguished intellects. Not only was Denver ranked as the fourth most literate city in the country, it almost cracks the top ten for percentage of residents who hold a bachelor's degree (41 percent). As for culture? More than 60,000 Americans put Denver at the fifteenth spot, so if you thought that all this city has to offer is steep ski slopes and climbing rocks, think again.
6. New York City.
Arguably the financial capital of the world, it's no coincidence that 30 percent of New York residents hold a bachelor's degree-and this number nearly doubles in the borough of Manhattan. Wall Street is also overflowing with advanced degrees, with nearly 27 percent of residents touting one. But finance isn't the only field that lures ambitious scholars to New York. Career opportunities in the fine and performing arts, publishing, and advertising industries draw some of the brightest, most driven, and creative people to the city that never sleeps. Don't forget the museums, theaters, and diversity: The results of a 2007 Travelandleisure.com and CNN Headline News poll deemed New York the most cultured city in the U.S.
7. Minneapolis.
One of Minnesota's twin cities, Minneapolis boasts more of the nation's top companies (such as Target and Pepsi) per capita than any other U.S. city. It has the fifth highest percentage of residents ages 25 and over who have received bachelor's degrees. Still not totally convinced of this spot's intellectual prowess? A study done by Central Connecticut State University analyzed six key indicators of literacy (including newspaper circulation, number of bookstores, and library resources) and ranked Minneapolis as the most literate city in the country.
Put These 10 Things On Your List
By Dr. David Eifrig Jr.
Do you remember trips to the grocery store as a child? If you were anything like me, you would reach for all the junk your tiny hands could handle. I had the system down: Wait for mom to turn her back and then quickly and quietly toss my favorites into the cart. Occasionally, my treasures made it home. Most times they were returned to the shelves with no explanation.
Now that I'm older (and perhaps more mature), I can put whatever I want in the cart. Amazingly, I've discovered the grocery store is my fountain of youth. It can be yours, too.
The grocery list on my refrigerator reminds me of the things I need to keep in my home at all times. I have had the list on my fridge for years, and it's grown quite long. But here's a quick rundown of the top 10 things on the list that have been proven by medical science to improve the quality and length of your life. I hope you'll find them valuable on your next trip to the grocery store.
The Eifrig 10:
| | |
| --- | --- |
| 1) | Olive Oil |
| 2) | Epsom Salt |
| 3) | Dental Floss |
| 4) | Tomatoes |
| 5) | Berries |
| 6) | Yogurt |
| 7) | Salmon |
| 8) | Wine |
| 9) | Chocolate |
| 10) | Fresh Flowers |
1) Olive Oil: The Mediterranean secret that decreases inflammation.
I wrote about the benefits of olive oil in the last S&A Health Report. No doubt, this should be the only oil you cook with. According to a study approved by the FDA, taking two tablespoons of olive oil a day is all you need to reap the health benefits.
2) Epsom Salt: If you're part of the 50% of Americans deficient in this mineral, it could be harming your health.
I have found a way to give myself a mini "spa" treatment at home for just a few pennies and a few minutes. I fill my tub with hot water and add a couple cups of Epsom salt. Epsom salts are named for the mineral-rich waters of Epsom, England... And its benefits have been known since Shakespeare's day.
The active ingredient, magnesium sulfate, is very important in the normal physiology of both the muscles and the nervous system. It is critical to hundreds of enzymes in the human body. However, the National Academy of Sciences reports most people are magnesium deficient. This might even account for our society's high rate of heart disease, strokes, osteoporosis, arthritis and joint pains, digestive maladies and stress-related illnesses, chronic fatigue, and a host of other ailments.
3) Dental Floss: The secret to longevity.
Mouth care is essential to good overall health. Bacteria in your mouth can cause cavities and – even worse – heart disease. Yet many people think simply brushing their teeth with toothpaste is the answer. As I have written before, this logic and behavior is quite dangerous for your health (see my archived article on fluoride). However, the most important part of good oral health is one that most everyone accepts, but many don't actually practice... flossing.
4) Tomatoes: The "veggie" that has more vitamin C than an orange.
While the tomato is most commonly associated with Italian food, the plant is actually native to the western coast of South America and was not introduced in Europe until the early 1500s when returning Spanish colonists brought it from the New World. Ironically, North Americans believed tomatoes were poisonous until 1820, when Colonel Robert Gibbon Johnson disproved that myth during a public demonstration on the courthouse steps in Salem, New Jersey.
Several chemicals inside the tomato – like lycopenes, coumaric acid, and chlorogenic acid – make it healthy. These chemicals are strong antioxidants and help keep your cellular function and immune system healthy. Tomatoes also provide other micronutrients like potassium, iron, and vitamins A and C (even more than oranges).
And by the way... to answer that age-old argument about whether it's a fruit or vegetable? While botanically, tomatoes are a fruit, legally they are not. Back in 1893, the U.S. Supreme Court ruled that the tomato is a vegetable.
5) Berries: Halt the aging process
One of life's simple pleasures is picking berries right from a garden or wild in the woods. Berries are a good source of vitamins. They provide many phytochemicals, which are nonnutritive bioactive plant substances like flavonoids or carotenoids, considered to benefit human health. Extracts from berries stop the growth of cancerous cells. Dark-colored berries contain many antioxidants in their skins (this is why they are dark), which help slow down the aging process. And berries also contain lutein (similar to carrots), which is important for healthy vision.
6) Yogurt: Keep your bones and digestive system in good shape.
Yogurt is an excellent source of protein, calcium, riboflavin, and vitamin B12. It contains more calcium and protein than plain milk, mainly due to the cultures themselves.
To get the most health benefit from yogurt, you must eat yogurt with live and active cultures ("probiotic") . That should be noted on the label.
7) Salmon: Lower your risk of heart disease.
Science has discovered the type of dietary fat we consume alters the production of an important group of biological compounds known as eicosanoids. Specifically, one type of oil called omega-3 (technically, it's not an oil but a fatty acid) produces a series of eicosanoids that have been shown to decrease the risk for many diseases. Among these are heart disease, inflammatory processes, and certain cancers.
Guess what food is high in omega-3 oil? You're right – salmon!
And one more suggestion... wild salmon may be better than farm raised due to the risks of mercury and PCB (polychlorinated biphenyls) concentrations in the less-regulated and poorly-monitored farming system.
8) Wine: Lower your blood sugar, decrease your risk of dementia, and protect your prostate.
Red wine is better than any drug your doctor will ever prescribe – including those cholesterol-lowering "statins" dispensed like candy.
So cheers to your health!
9) Chocolate: Decadence for everyday health.
The Journal of the American Medical Association reported dark chocolate lowers blood pressure. This is due to the "cocoa phenols" found in chocolate. In addition, Johns Hopkins reported these same potent antioxidants in dark chocolate help to prevent heart disease by decreasing free radicals. Mmmmm. I wish I was part of that study...
10) Fresh Flowers: Reduces stress and boosts your mood.
I love fresh flowers! Flowers (and babies) are nature's way of saying that life will go on. No shopping list worth its salt (Epsom, of course) would be complete without flowers. It's true... a simple, strategically placed arrangement of an inexpensive seasonal assortment is one of the easiest ways to lift your spirits and lighten your mood. One study reported men and women aged 55 or older who receive one or more bouquets of flowers over a two-week period showed an improvement in mood as well as an improvement in cognitive function-memory.
Well, that's the list. I hope you realize these are 10 of the very best things you can get from the grocery store that will immediately improve your health. Finally, please remember that good health is not simply about avoiding death; it is about quality of life and living well. The grocery store is a great place to begin your common sense journey toward good health.
When it comes to grocery shopping... What do I do?
| | |
| --- | --- |
| 1) | I buy flowers almost every time I shop. As a gardener myself, I appreciate the effort to create this sort of beauty. |
| 2) | I love buying chocolate, red wine, and flowers together – especially if I am cooking at someone else's home. |
| 3) | I always buy extra-virgin olive oil. |
| 4) | I alternate between unwaxed and waxed floss (some think one is better than the other). |
| 5) | I buy wild salmon when I can find it. |
| 6) | I compare my grocery list with the supplies I already have before shopping. |
| 7) | If berries are out of season, I find that frozen berries usually work just as well. |
Here's to our health,
David Eifrig Jr., M.D., M.B.A.
After Energy Independence, Then What?
Glenn Beck recently did a fascinating interview with Ray Kurzweil, the remarkable inventor/futurist. Among other things, Kurzweil, a member of the prestigious National Inventors Hall of Fame, developed the first print-to-speech reading machine for the blind.
Right on Beck's show, he demonstrated how it works. It was amazing.
While listening to Kurzweil talk, the thought crossed my mind how geniuses like him appear to be able to transcend the junk that you and I allow to flood our brains day in and day out . Dumbed-down infomercials. Round-the-clock sports on TV. Nonstop pain-at-the-pump and global-warming tales. The latest shenanigans of cartoon characters like Vladimir Putin and Mahmoud Ahmadinejad. The childish ramblings of our own presidential candidates. Even the scary news flashes about Hollywood celebs who are threatening to emigrate if their candidate doesn't win the upcoming election.
Listening to Kurzweil reminded me that most of the things people think about, fret about, and argue about don't really matter much in the long run. Over the past century, we've survived a rash of bad presidents and shameless politicians, unthinkable natural disasters, the Great Depression, and "world" wars (along with a few little skirmishes like Vietnam). And humankind stubbornly keeps pushing forward.
I believe one of the biggest reasons for this success is that the people on the leading edge of civilization seem to be unfazed by all the nonsensical stuff.
Now when I say we've survived, I admit I'm talking on a macro basis. Between the advances, there is almost always a great deal of pain and suffering for the many people who happen to be living in the wrong place at the wrong time.
The Soviet Union is the best recent example of this. It was only a matter of time until the lie of communism collapsed under its own weight. But for 70 years, hundreds of millions of people suffered and tens of million died. The same was true of Hitler's Germany, Mussolini's Italy, Saddam's Iraq, and Mao's China. But what's interesting is how, notwithstanding government's best efforts to slow human progress, the best and the brightest keep moving mankind forward.
As a result of the exponential progression of information technology, Kurzweil says that the rate of progress itself is now doubling every decade. In fact, he believes we will experience 32 times as much technical progress in the next 50 years as we've seen in the last century! It's hard for a guy like me, whose neurons shut down at the thought of learning how to load my iPod, to comprehend such things.
Kurzweil says that when he first came to MIT, the school had only one computer. It took up an entire floor and cost more than $10 million. Now, the computer in a $50 cellphone is thousands of times more powerful than that MIT dinosaur. Which is why he believes we will see a billionfold improvement in information technology over the next 25 years. And then, in the years that follow, we'll see it again, and again, and again.
I could go on and on about Ray Kurzweil's amazing inventions, knowledge, and insights into the future. But the biggest of all his predictions is that due to advances in nanotechnology, we will soon be able to produce highly efficient, lightweight, inexpensive solar panels. As a result, he is all but certain that solar power will provide 100 percent of the world's energy needs within 20 years - easily and inexpensively. He points out that the sun provides us with 10,000 times more sunlight than we need to accomplish this.
If Kurzweil is right, it not only will put a damper on draconian save-the-planet ideologies aimed at increasing control over people's lives, it will change the balance of political power worldwide. It would also mean that millions of hours have been (and will be) wasted over debating whether or not to drill through the hides of caribou or dig up our trillions of tons of coal and convert it to oil.
All this reminds me of something that another great futurist, the late Alvin Toffler, said in his landmark book Future Shock. Toffler believed that at any given time in history, about 90 percent of the population thinks in terms of the past, 7-8 percent have their heads in the present, and 2-3 percent are focused on the future.
When you look back on just the past 10,000 years, the evidence is clear: Human progress accelerates, notwithstanding little inconveniences such as famines, disease, volcanic eruptions, and asteroids paying their respects from time to time.
Don't get me wrong. In the coming decades, I believe the U.S. is likely to be a totally different place than it is today. We may even have to go through a dictator or two. Perhaps even a couple of revolutions. But the scientific brains and futuristic thinkers don't seem to pay much attention to politics and social upheaval. They just keep marching forward as though nothing were going on around them.
Nevertheless, the big question that remains is the same one that's been implied throughout human history: What good does human progress do in such fields as technology, medicine, and energy if there continues to be no human progress in the area of goodwill?
So, what can you and I do about this? Plenty. The thought of ever-greater technology joining forces with ever-greater malice should incentivize each of us to demonstrate - through our actions -a spirit of goodwill.
You and I can't force anyone else to change to our liking, but we totally control who and what we, as individuals, can become. Rather than joining crusades to save the world, we can accomplish much more by focusing on making ourselves the best human beings we can possibly be.
Fan Appreciation

For those 'dog days' of summer

by: Dale Y, The Green Guy


We are about to enter into those classic days of summer with high temperatures, some oppressive humidity, and a lot of stagnant air.The easiest thing to do to combat these waves of heat is to turn up the AC and ride it out. Although I am as much a convert to the AC lifestyle as anyone else, I really enjoy the outside air more than filtered and cooled inside air. For this reason, I love to have several fans around and ready to run at a moments notice.
I'm all for AC cooling on those hot and sticky night, no doubt about it. But truth be told, I will turn off the AC whenever I can and run several fans throughout the house. When you place a box fan in a window at night, you suck in the cooler air and when you're using a couple more fans, distribute all that air all around your house.
Not only that, how about considering the green issues? Even small room-size AC units will consume almost 600 watts of power. Larger one will use up to 1500 watts. A larger box fan uses only about 80 watts of power each. So when you're using 3 big box fans, you will be using between 60 to 90% less power than an AC unit. In my book, that is some serious saving per month even if you only switch to fans one or two nights in that time period.
So let's cut to the environmental chase here. Any sized fan, from small to large, is going to use less power and energy than any air conditioning unit on the market. Not to mention, you can direct a fan to blow anywhere, even directly onto yourself, which will keep you cooler than a proverbial cucumber. They even make fans now with a built in misting system which will actually mist the air with water and give you a far better cooling effect than just blowing air around.
Fans are inexpensive, too. For under $20 at your local store, you can get a window sized plastic box fan that does a solid job of blowing air. For those of us into the recycling aspect, there are plenty of the old metal bladed fans to be found at rummage sales. Generally, they are really inexpensive and they blow a good quantity of air in any direction you need.
Power savings, fresh air and a cool breeze will blow you right through the 'dog days' of summer every time. Add that to the fact you will be saving not only green in your wallet, but also you'll be doing a little green energy savings to boot.
You can't get enough of fan appreciation.